The Philosophy Issues of Teimuraz the First in the Poem "Martyrdom of Queen Ketevan"
Keywords:
Teimuraz the First, Georgian Poetry, Poem
Abstract
IIn the Georgian literature of renaissance period the poem "Martyrdom of Queen Ketevan" by the king-poet Teimuraz the first includes both the spirit of the epoch and hismessages, the spiritual mission of the Queen Ketevan and the emotions of the King-poet expressing national, religious inspirations, which were achieved even instead of their own lives. King poet describes its thoughts by means of his own artistic word which are empowered by the love in God, the wisdom of the Gospel, Biblical philosophy closely connected to the epoch pain.
In the poem by Teimuraz the first "The Martyrdom of Queen Ketevan" describes the way of the Queen Ketevan which she followed from the secular life to spiritual deeds. Such a tantalizing path reflects the mission for protecting nation and belief, the queen had to fight against enemies to fulfil the mission. During the fight the aspiration for a better future was established, what is demonstrated in the philosophy of the king poet and proved by its works; It was expressed in transformation of his characters in both aspects like material and spiritual. He demonstrated it through changes in the inner world of the person, the steps of the spiritual development, showing transformation from horizontal to vertical prospective.
Teimuraz the first used the artistic image of his mother, Queen Ketevan incorporating national merits together with the religious philosophy and demonstrates the historical path from the physical personality to the sainthood; 
The path of the queen from the Christian world to the Shiraz captivity reflects queen's aspiration towards her mission, and difference between her fallen and destroyed life. Being in such a position, she undertakes the task to fight for Christian Georgian nation, her motherland and son and sacrifices herself like a God.
In the surroundings of unknowns and different belief the Queen Ketevan fulfils her spiritual task still being attached to the earthy life, as the latest gives her possibility to change the surrounded reality through her nature, establish the new, where the "Dark" will be overcome by the "light". Queen Ketevan fulfilled the great mission, she was able to introduce Christianity among the believers of other religion, on the way which used to bring a person closer to God she was able to find supreme truth, obtain divine love and from her individual reality she could turn into national wide martyr and example.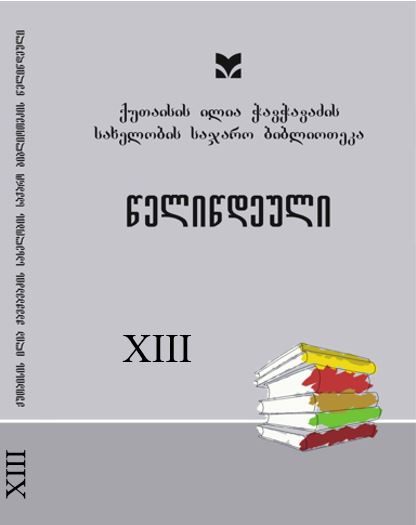 Downloads