Thoughts of fortuneless Queen
(Nino Tarishvili's poetry)
Keywords:
Georgian Poetry, Nino Tarishvili, Soviet Censorship
Abstract
The twentieth century offered a new reality, a new socio-political life to the country. Georgia, in fact, moved on to new rails of life. On the one hand, the First World War, on the other, the victory of the Bolshevik Revolution completely changed the existing reality.
In the first quarter of the twentieth century, a number of literary groups or associations were formed in Georgia. Many artists tried to escape the existing reality in order to reflect their experiences and things happening around them.
The Bolshevik regime was a brutal force that didn't accept the people who didn't tolerate soviet ideology and fiercely fought against it. Artists had two ways to survive, taking compromises to the regime or live under the constant danger of punishment.
In the twentieth century, in Georgia, a number of worthy poets appeared on the track, who took a deserved place in Georgian poetry. There were many artists who were overshadowed by the conjuncture of the Soviet era. In the socialist epoch, the soviet ideology which was permeated with falsity was trying to form a "Soviet poet". The regime was ruthless towards all artists who did not pay any tribute to their ideology. Such poets were called enemies, and their poetry was considered to be immoral. Georgian poetry knows lots of such names. They are only moderately mentioned in the history of Georgian art.
It would be unfair to forget them. Cosmos includes huge planets, but you can also see the small stars if you look up the sky. Without any of them, galaxy would be far from perfection. That is why it is regrettable to forget any poet or poetic word. Their creations are no less valuable and interesting. Nino Tarishvili is one of such poets. I. Grishashvili dedicated several poems to her and Paolo Iashvili called her Georgian Anna Akhmatova. During her work, Nino Tarishvili created wonderful and unforgettable poems that complement the history of Georgian poetry. 
Nino Tarishvili took a very bold step in poetry. In fact, there is not a single poem in her poetry, not a single verse, by which she bends the knee to that harsh reality, that threatened the destruction of "disobedient artists".
Nino Tarishvili did not have a "creative ancestor" whose path she would continue in poetry. She herself initiated a poetic thought imbued with a highly "eternal passion".
Her charismatic, rebellious, and feminine passionate nature is expressed in all simplicity in her poetry. This was the reason why the female poet was expelled from the university and found herself in extreme spiritual loneliness during her lifetime.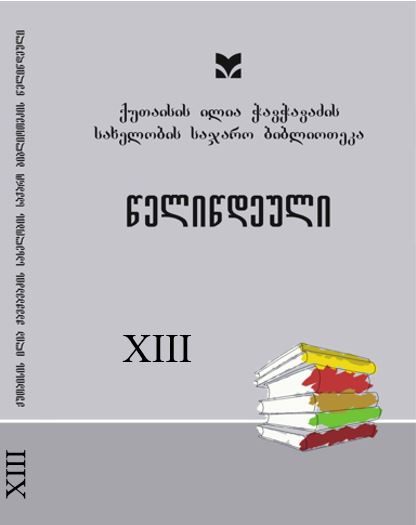 Downloads