Epigraphic monuments of Kakheti
(paleographic-linguistic aspects)
Keywords:
Georgian Epigraphy, Script, Norm, Change
Abstract
The epigraphic monuments of Kakheti are distinguished in the Georgian Lapidarium, including the inscriptions of Gremi, Khirsa, Ikalto, Akura, Ninotsminda and others. The epigraphy of Kakheti was studied by M. Brose, E.Taqaishvili, Pl. Ioseliani, A. Khakhanashvili, G. Chubinashvili, A. Shanidze, T.Barnaveli and others.
Our goal is to study the inscriptions of Kakheti from the palaeographiclinguistic aspect. For this purpose, we mainly use the material given in the "Corpus of Georgian Inscriptions" Volume I (compiled by N. Shoshiashvili, 1980), as well as the internet resources.
It is known that in Georgia, in addition to Georgian inscriptions, there are ancient Greek, Aramaic, Hebrew, Syriac, Armenian, Arabic, Turkish, Persian and other inscriptions both monolingual and bilingual. There is also a trilingual (Georgian, Persian, Armenian) inscription Trilingua (Gremi) and inscriptions in four languages Tetralingua (Gareji, 1352), which is very rare, preserved in Kakheti.
In the paper we discuss the inscriptions (IX-XI centuries) preserved in Iqalto Monastery Complex (Telavi), Khirsi Fathers' Monastery (VI century, Sighnaghi), Mamadaviti (Davit Garejeli) Monastery, Ninotsminda (Sagarejo), that are made in three types of Georgian alphabet: Asomtavruli, Nuskhuri, Mkhedruli. Transient types from Asomtavruli to Nuskhuri can also be found, Asomtavruli-mingled Nuskhuri.
The language of inscriptions is mainly within the norms of the old Georgian language, but there are also some changes. For example: 1) Different cases of descendingdiphthong disorder, containing -ჲ (iota): a) ჲ is missing: The vowelbased noun მეფობა mepoba (to reign) is unmarked in nominative case, it is without ჲ: ...მეფობა ღ(ირსი) ლეონისი... mepoba gh(iris) Leonisi (Khirsi Fathers' Monastery)... b) there is excessive amount of -ჲ, it is written instead of -i in the possessive pronoun შენჲ shenჲ (your) in the nominative case: ...აღაშენა [წმიდაჲ] ესე საყდ[არი] შენჲ ... aghashena [tsmidaჲ] ese saqd[ari] shnჲ (ibid)... c) ჲ-is added to a proper noun in nominative case. For example, the anthroponym კაციაჲ Katsiaჲ (or კაცაჲ Katsaჲ: Z. Sarjveladze – author): ქ(რისტ)ე შ(ეიწყალ)ე კ(ა) ც(ია)ჲ... K(rist)e sh(eitsqal)e k(a)ts(ia)ჲ (Inscription of Ninotsminda temple, X-XI centuries)... 2) The აღ- (agh) verb prefix is simplified, ა- (a)-is used instead of it in the verb ავმართე: ესე ჯუარი მე, მარზუნ, ავმართე სალოცველად ჩემდა... ese juari me, Marzun, avmarte salocvelad chemda... (David-Gareji Baptist Church) and others.
Although the epigraphic monuments of Kakheti are damaged, not fully readable and it is difficult to obtain detailed information about the palaeographic and linguistic features of the relevant period, its data is important for studying the history of Georgian spiritual and material culture, language and script.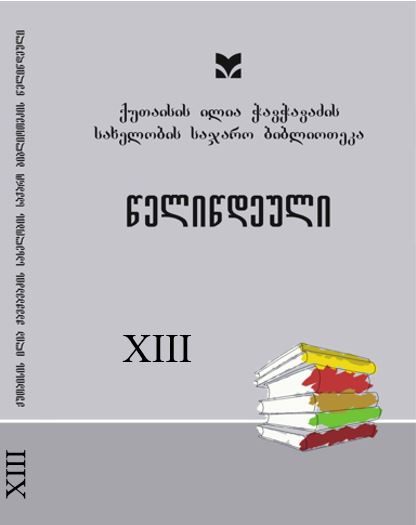 Downloads