Tsinandali tragedy by French writers: Anna Drance and Alexandre Dumas
Keywords:
Anna Drance, Alexandre Duma, David Chavchavadze Family, Leks
Abstract
In 1857, Anne Drance›s book "Shamil›s Captive Women" was published in France. The author was the governor of Davit Chavchavadze›s children. She was captured by the Leks at the time of the attack on Tsinandali Palace in 1854 together with Chavchavadze›s family members and taken to Imam Shamil in Dagestan. Shamil wanted to exchange his son, Jemal Ed-Din, for Georgian captives, who had been held hostage by the Russians and was growing up in Russia, far from his homeland, at the Emperor›s court. In the book, Anna Drance describes in detail her sad but exciting adventures.
The famous French writer Alexandre Dumas- father, who arrived in Georgia at the end of 1858, was also interested in the Tsinandali tragedy. In his book, he vividly conveys the impressions he gained during the trip. He paid a special visit to the Chavchavadze family, met Davit Chavchavadze›s wife Anna personally and heard her tragic story directly from her. Alexandre Dumas›s book The Caucasus was published in 1859 in Paris.
Both memoirs are original and reliable. Their story complements each other and creates a complete picture. They describe the story emotionally and evoke great empathy in the reader. The faces of historical figures revived by writers are interesting: Anna and Davit Chavchavadze, Iliko and Barbara Orbeliani, Shamil, Jemal Ed-Din ...
The memoirs of Anne Drance and Alexandre Dumas, as precious historical sources, have not lost their relevance even today. It has always been important and interesting for us to see Georgia seen by foreigners, the current historical events in us and the people at the epicenter of these events. That is why both works are still read with great attention and interest. As for the Tsinandali tragedy, it was another result of the Russian occupation of the Caucasus, which ended in casualties.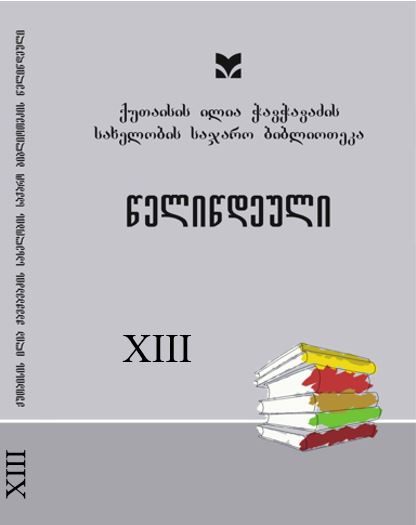 Downloads