Vocabulary related to marriage in Kakheti
(According to the materials of Tsnori)
Keywords:
Kakhetian Dialect, Dialectal Vocabulary, Marriage
Abstract
A wedding day is one of the most important days in a person›s life. In the old days, weddings were held mainly in autumn, when the harvest was molten, the wine was crushed, and the wheat was ground.
In the paper, we present the material recorded by us in Tsnori, Sighnaghi Municipality. With the development of life, life-changing rituals change. Forgetting a broken tradition or custom has been accompanied by many lexical items as useless and useless. Therefore, we considered it necessary to find and fix the surviving lexemes.
Dating a man and a woman in the last century was mainly done by the deal, there were also cases of starting a family with love.
According to our respondent: "In the past, one could not get married or ask without an apostle". As in other parts of Georgia, according to our materials, an apostle/mediator/ambassador is a man chosen by a family and sent to another family to like this girl and ask us to marry her. Voluntarily chooses and distribute to each other.
According to the explanatory dictionary of the Georgian language, an apostle means a person sent (sent) with an assignment, a "mediator". A mediator is the same, as a mediator. The conciliator, the mediator, is the same as the matchmaker. SulkhanSaba Orbeliani: Machakali - mediator, an apostle - narrator, and missionary. 
"Belga" – According to today›s materials, this is the pre-engagement period, negotiation. According to the definition of the Georgian language in the dictionary: Belga - is jewelry, worn by the bridegroom for the bride.
The best man was called the godfather, formerly also called Dadiani. It means brother-in-law with Sulkhan-Saba. The semantics of the wedding lexical units' "Shah" and "Khoncha" is interesting.
According to the people of Tsnoreli, a woman is a woman of the family, who is right and leads the family well, "Not all women are women".
By studying the wedding customs and related lexical items, we can also study the moral-psychological characteristics of Georgians, and the forms of artificial kinship.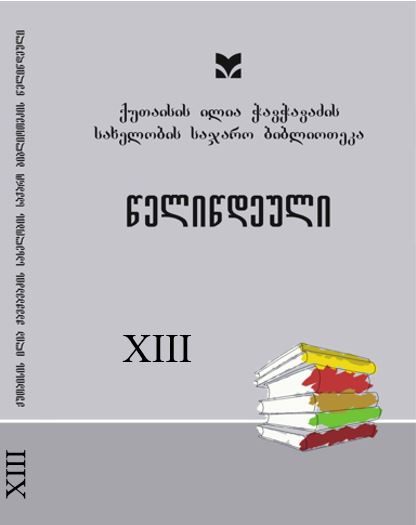 Downloads